There is no other streaming video service that offers customers the breadth & quality of selection and the ease of access across popular devices & platforms that Amazon Video provides. First came hundreds of thousands of videos to rent or buy, including new release movies and day after broadcast TV episodes. Then Amazon Video pioneered online streaming video with their Prime Video service, making tens of thousands of movies and TV episodes available at no cost to Amazon Prime members.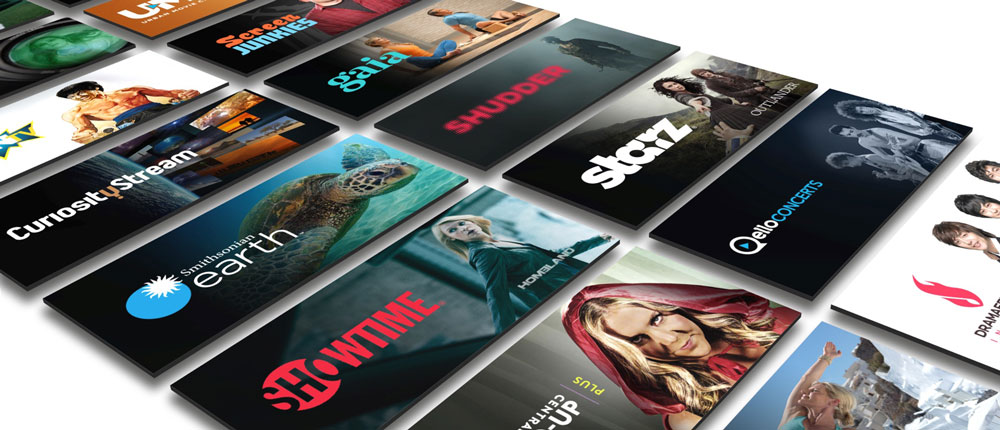 Situation
Late in 2015, Amazon Video took cord-cutting efforts one big step forward with an initiative to offer 3rd party video subscriptions to customers, as part of their Streaming Partners Program. These 30+ ad-free subscription channels offer Prime members access to more of their favorite movies and TV shows, all with the convenience, reliability and features of Amazon Video and supported by Amazon's award-winning customer service.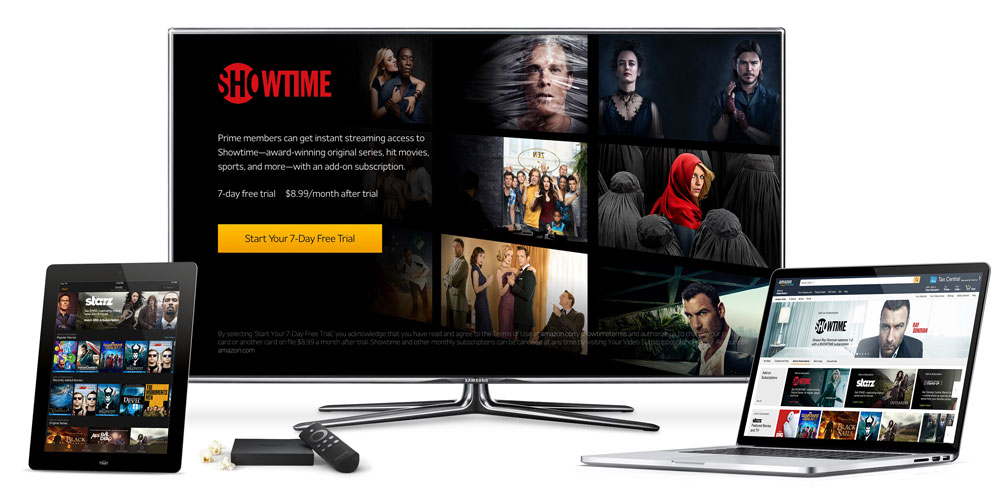 Objective
Meet the growing customer need for a cross-platform streaming video service that delivers convenience and simplicity in the aggregate by launching Add-on Video Subscriptions—a more affordable monthly subscription option to traditional cable that can be cancelled anytime—across all Amazon Video platforms and client apps.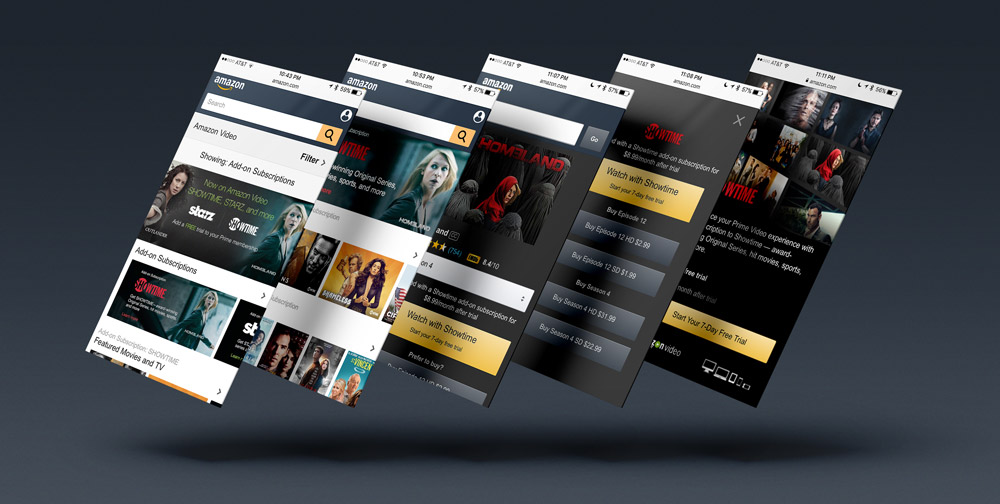 Approach
To accommodate the addition of these new channels, we built a service-wide infrastructure across all platforms and device clients, enabling us to launch with 30+ partners while establishing an infrastructure to efficiently onboard future add-on channels.
Customers are able to shop, sign up for and watch movies and TV shows from 3rd party video subscriptions including premium cable channels SHOWTIME and STARZ. In addition, customers can add subscriptions based on their particular interests, for example: Acorn TV for world-class British television and Tribeca Shortlist for award-winning & independent films and much more.
Amazon Video subscriptions are only available to Amazon Prime members, further adding to the growing list of benefits. If a customer isn't already a Prime member, they can sign up for a 30-day free trial Prime at the same time they sign up for a 3P subscription.
Customers are able to sign up for an add-on subscriptions via web or select clients (i.e. Fire Tablet, etc.), including an initial free trial period. Upon signup they can watch all of their content through the Amazon Video app, which is compatible with hundreds of devices, through one service.
Results
The launch of 3P video subscriptions dramatically scaled the selection of movies and TV available on Amazon Video, while also solving for genres and experiences that are significantly underrepresented by streaming services today. Customer demand was larger than expected and Amazon Video is already fielding calls to bring more 3P partner channels to the program.
Key service updates:
Integration of Add-on Subscriptions offer type across service taxonomy and navigation
The addition of thousands of ad-free TV shows, movies, documentaries and more
Free trial sign-up, affordable monthly subscriptions and hassle-free online cancellation
Greater subscription selection with simplified content discovery, and better recommendations
Availability across all platforms and hundreds of devices through one service
We also launched 16 live streaming channels on the web for SHOWTIME and STARZ, and built a live acquisition and distribution platform we will leverage to deliver more live video options in 2016. And, we created a new "Manage Your Video Subscriptions" page where customers can easily cancel and restart their video subscriptions with zero friction.
https://www.youtube.com/watch?v=WXYNP7ffWLQ
The launch was covered by approximately 100 original stories and hundreds of additional reposts:
"Ordering up TV channels a la carte has long been the dream of cable cord-cutters. Now that dream is closer to coming true thanks to Amazon." – WIRED, Davey Alba
"While Netflix seems to be trying to build itself into a super-sized version of HBO, Amazon's play is to make itself into a content hub that can integrate many other over-the-top streaming services into itself." – Business Insider, Nathan McAlone
"Right now, people — like myself — who choose streaming services over traditional cable packages have to deal with separate accounts and apps for every channel they want to watch. But if Amazon's marketplace gains traction, I can imagine a day when the Amazon Video app is the only one I would need for all my late night binging sessions." – Jacob Demmitt, GeekWire
"Here's the latest hammer blow at the pay TV bundle, and an interesting add-on to Amazon's video offerings for customers who pay $99 a year for its Prime service: Its new Streaming Partners Program is designed to make it simple for members to pay a monthly fee to see programs from Showtime, Starz, and other premium services." – David Lieberman, Deadline