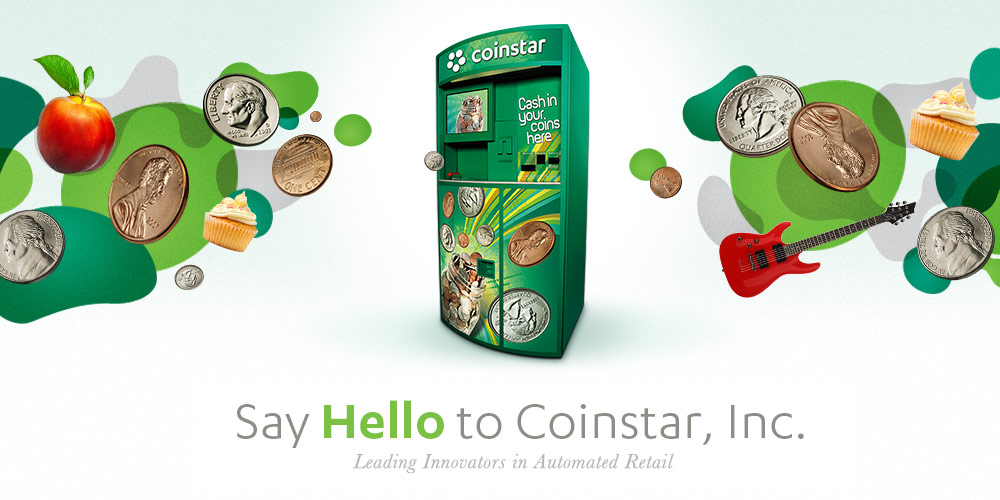 Coinstar, Inc. is a leading provider of automated retail solutions offering convenient services that make life easier for consumers and drive incremental traffic and revenue for retailers. The company's core automated retail businesses include the well-known Redbox® self-service DVD rental and Coinstar® self-service coin-counting brands, which include approximately 35,400 DVD kiosks and 20,200 coin-counting kiosks in supermarkets, drug stores, mass merchants, financial institutions, and convenience stores nationwide.
As Coinstar, Inc. approached the announcement of an exciting new joint venture between Redbox and Verizon, to offer instant streaming video service to existing customers, a new look was needed for it's corporate website. The current site was neither engaging, contemporary or flexible, and the announcement was sure to create a lot of buzz and drive considerable traffic to it's corporate portal. The impending announcement however, was scheduled to occur in just over one month's time, which meant an accelerated schedule for the update.
Objectives:
• Redesign Coinstar corporate website to a more contemporary look and feel; within a short time period
• Minimize confusion between LOB and Corporate entity, and increase customer familiarity of full product suite
• Improve site usability and include new content sections – Innovation and Corporate Social Responsibility
• Migrate to new server and integrate with third party content management and HR/IR publishing vendors
Approach:
Coinstar, Inc. delights and engages consumers through its automated retail services, increases revenue for retailers and provides shareholder returns. In order to more clearly communicate this message and position Coinstar as a confident (not arrogant), professional, contemporary, trustworthy and innovative company, a new corporate look and feel was necessary.
Tactics:
• Explore use of green, whitespace and possibly a secondary color
• More images; less copy heavy
• Ability to add or incorporate videos
• Ability to prominently feature special announcements
Several new designs were explored, all with a more contemporary look and feel. The most popular design included a more imaginative solution playing on the innovation and playfulness of the corporation's two primary lines of business. The second solution was a cleaner, more corporate approach with the the addition of large impactful imagery and an intuitive navigation structure.
Both options were reviewed by key executives, with the final decision made to go with the more conservative, corporate look. Upon receiving approval on the design direction, all remaining pages of the website were designed and a detailed site map created. The next step included the building of both the front and back-end of the website, leveraging dynamic programing and a modular build structure to make the site more scalable, flexible and easier to manage.
Results:
The new Coinstar corporate website successfully launched in time for the Redbox/Verizon partnership announcement, prominently featuring the press release on the redesigned homepage. The reformulated navigation and improved site structure allowed visitors, including investors, job-seekers, retailers, potential retailers, partners and media, to more easily explore and discover content. A revitalized Corporate Social Responsibility program was also kicked off using a newly integrated section to the site. The new corporate website was used as a business building tool to attract new investors and drive innovative business solutions.