The contribution of design in the context of business has been traditionally difficult to measure. This is because design as a discipline is very broad, encompassing multiple forms and functions, tricky to quantify and greatly misunderstood by traditional business structures.
The Design Management Institute (DMI), an international organization that seeks to heighten design awareness as an essential part of business strategy, even had trouble deciding whether design metrics were meaningful as a way to measure business impact. The reason for this: it's hard to value something that can't be easily quantified.
So, DMI teamed with strategic consulting firm Motiv Strategies to produce a new tool that tracks the market results of design-centric companies in order to better understand the business impact of design. The Design Value Index showed that companies who use design strategically grow faster and have higher margins than their competitors, resulting in better stock performance.
Even with such results, many businesses have still been slow to adopt design as a core component of their operating structure. It's not clear if they don't fully understand the value of an integrated design approach, or they aren't sure how to successfully adapt their existing business model. Whatever the case, those progressive companies that have seen the value of design, and made it a strategic component of their operations, have reaped the rewards at the cost of their competitors. Several notable examples, across various industries include:
Apple vs Microsoft
There are so many examples of Apple's ability to out-design Microsoft, but one of the most convincing has been the incredible success of the iPod. Where Apple changed the music industry, Microsoft failed to even be a player in the market with the quick demise of the Zune. In a Bloomberg Businessweek feature former Apple CEO John Sculley remarked, "I remember going to [the Consumer Electronics Show] when Microsoft launched Zune, and it was literally so boring that people didn't even go over to look at it. … The Zunes were just dead."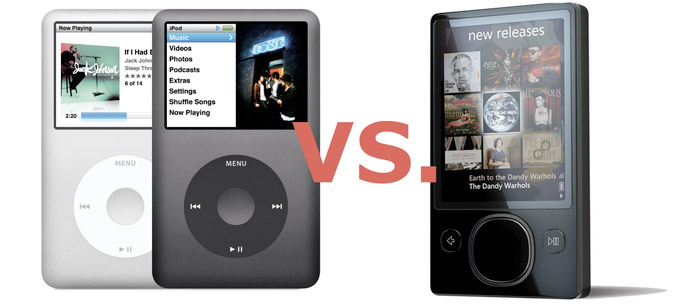 Image from Wired.com – Showdown: New Zune VS. iPod
Facebook vs MySpace
At one time MySpace was the king of social networks. But due to key failings on MySpace's part, including the use of too many ads and garish user pages, the social networking giant fell to quickly growing incumbent Facebook. Through a keen focus on usability and clean design, Facebook was able to crush MySpace and grow its user base past the billion mark globally. There were a lot of reason's that lead to the demise of MySpace and success of Facebook, but it's hard to discount the influence of simple design in the context of usability. In an interview with Jimmy Fallon, Napster founder and former Facebook president Sean Parker labeled MySpace as a "junk heap of bad design that persisted for many many years."
Target vs Kmart
Target found success against discount retail giant Walmart, where Kmart failed, by differentiating themselves through a design-forward approach to its products. While both companies offered discounted goods, just like Walmart, Target added an additional layer of value by offering inexpensive products for image-conscious consumers including fashion-forward apparel and home decor. Kmart on the other hand, was not able to provide any perceivable value beyond discounted products, which eventually led to its demise. Successful companies often use design as a key differentiator in order to exceed customer expectations.
Nike vs Reebok
In the early days of the famed rivalry between Nike and Reebok, a fierce battle raged for athletic shoe supremacy. But it wasn't long before Nike created an insurmountable gap between the two companies, through key athlete sponsorships and a focus on cutting edge design. "The commitment to great design and to innovation–that's really at the core to any successful business and it's a prerequisite to realize your great potential as a company," shared by Nike CEO Mark Parker, a former designer himself. Today, Reebok is a non-factor in the minds of athletic shoe consumers.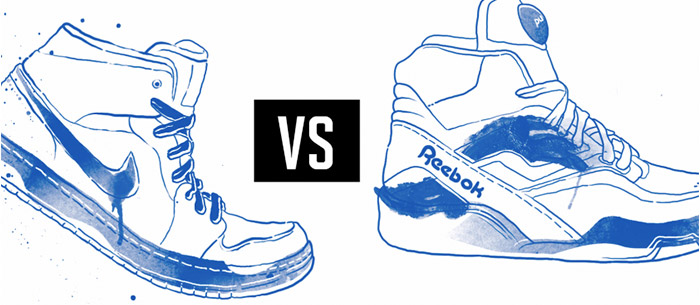 Image from Fortune.com – The 50 greatest business rivalries of all time
Nest vs Honeywell
Nest has continued to win design award after design award, as touted by founder and CEO Tony Fadell, "We always wanted to make something beautiful. Useful, innovative, revolutionary, but above all beautiful. … It's incredibly important to us that we've succeeded in creating an artfully designed device that's been recognized by our peers across the world." This design-centric approach has springboarded the home thermostat into relevance, a formerly a mundane household appliance, and allowed Nest to make a big splash in a market previously dominated by Honeywell. Note, Honeywell has recently launched a similar elegantly designed home thermostat.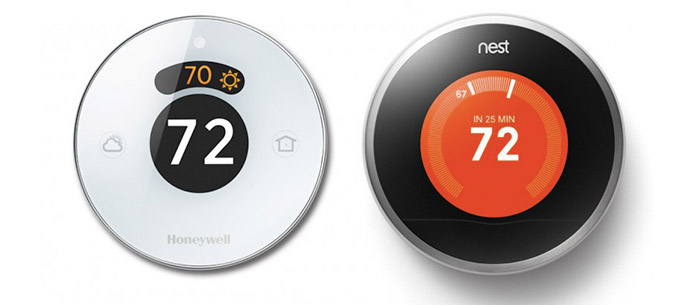 Image from SlashGear.com – Nest vs Honeywell Lyric: Smart thermostat showdown
Dyson vs Everyone
It's a non-starter to say that Dyson doesn't make the best-designed vacuum cleaners on the market. But, beyond aesthetics, the Dyson design is about function, so that no matter how much dirt is picked up, the suction is not affected. Before Dyson, the vacuum cleaner was boring and stagnant, with the machines themselves thought of as simple service oriented tools that quickly lost suction after use. The idea of a better-designed product being both beautiful and functional was shared by Dyson Senior Designer Alex Knox, "The way our machines look is kind of derived from the way they work. The final embodiment of it all is just kind of a process of fine-tuning the way it works and looking at the usability and just experimenting."
More and more businesses today are finding success with an integrated design approach. Why? Differentiation through design is a core component of a successful business. In an ever-saturated market, design is a key way for companies/products to standout amongst the clutter. It's also an important factor when considering customer value, the combination of form and function, to create further separation from the competition.
Of course, design isn't the only reason for the dramatic success of one company/brand/product over another. There are several factors at play, including people, resources, marketing and timing, to name a few. But, there are enough examples within the last couple decades that a strong case can be made for the impact that design has on a businesses' ability to succeed. And, while design may remain unquantifiable in the traditional business sense, its impact is undeniable.
What is your business's commitment to design?