Making pausing video fun.
Never again do you have to wonder where you've seen that actor while watching a show. Amazon Video's X-Ray enhances the customer viewing experience by engaging curiosity and encouraging discovery of relevant and timely information while streaming.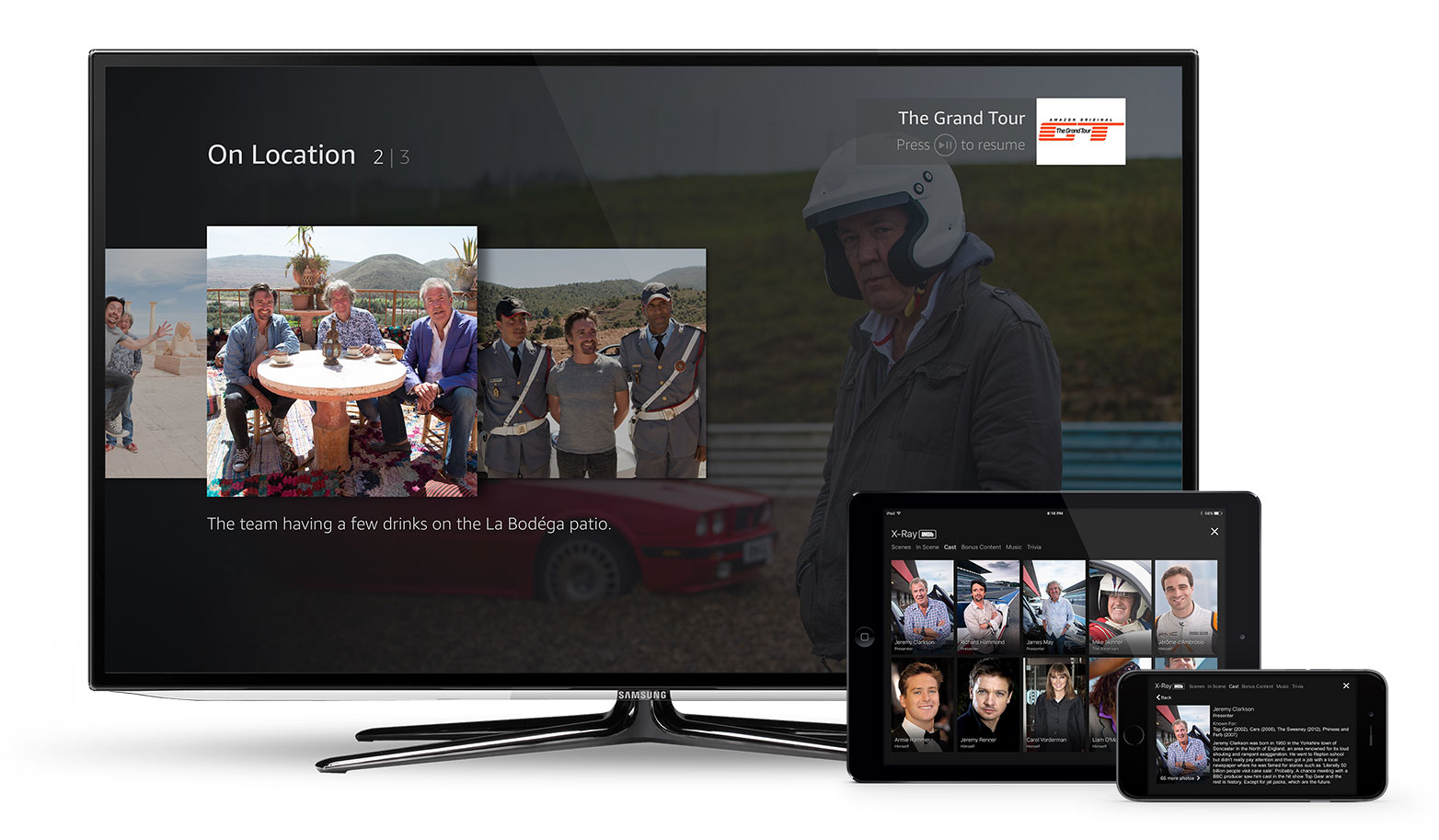 X-Ray on Amazon Video
Become the ultimate video insider.
X-Ray is a unique feature unmatched by other streaming services, which helps customers learn more about what (or who) they're watching directly from the video playback experience. Leveraging Amazon's exclusive time-coded technology, viewers can quickly identify cast, characters and music the minute they appear on screen with a simple tap or click of the remote.
This innovative product offering is all about learning and exploring, with a treasure-trove of information powered from IMDb and only available on Amazon Video. X-Ray includes everything from answering simple questions like "who is that actor" to fulfilling deeper curiosity through trivia, actor biographies, filmographies, and special behind-the-scenes photos and videos.
Seamless Engagement
Delivering non-stop value while streaming.
X-Ray is accessible directly from the video playback experience, across all service platforms, with inline information tiles displaying onscreen actor and character names, identifying songs, and pointing out unique trivia. With such seamless integration there's no need to interrupt video streaming ever again to find that key bit of information. And thanks to X-Ray's unique time-coded experience, the IMDb fed data is constantly evolving along with the storyline of the show or movie.
But this is just scratching the surface. With a simple tap or click customers are able to go one step deeper to access additional behind-the-scenes information. With video conveniently paused, the full X-Ray experience provides a wealth of content including cast and character bios, exclusive bonus content, full music soundtracks, and extensive insider trivia. And once exploration is complete, users can quickly and easily return to streaming by simply exiting out of X-Ray.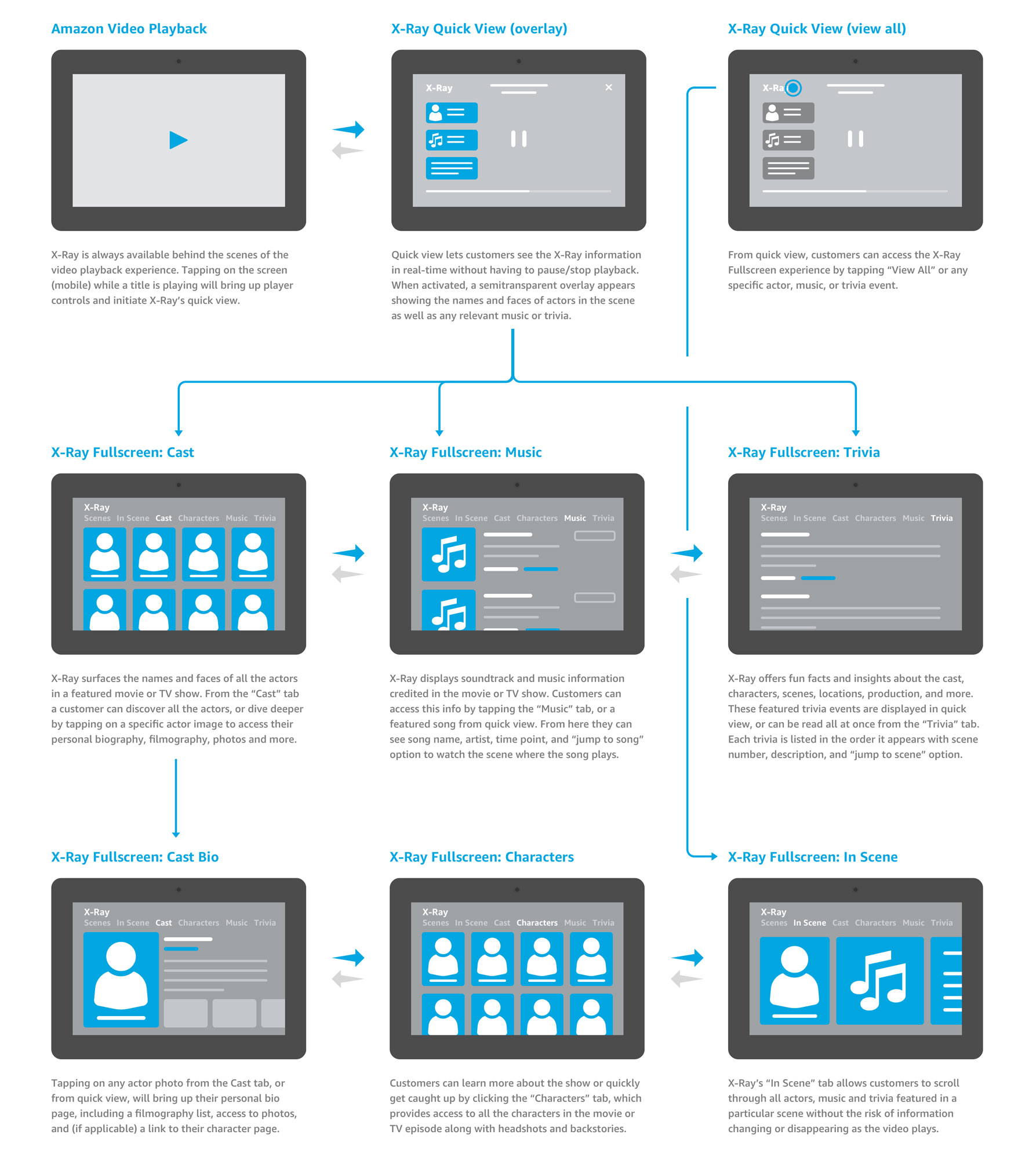 Offering a wealth of content
Going behind the scenes of your favorite movies & series.
X-Ray's unique video insights feature allows Amazon customers to delve deeper into their favorite movies and TV shows than is possible on any other platform. Leveraging IMDb's extensive video database, with full cross-platform compatibility, viewers are provided on-screen access to actor bios, photos and filmographies, plus character background, interesting facts and trivia, featured music and much, much more. Accessible directly from the video playback experience, with seamless integration and instinctive usability.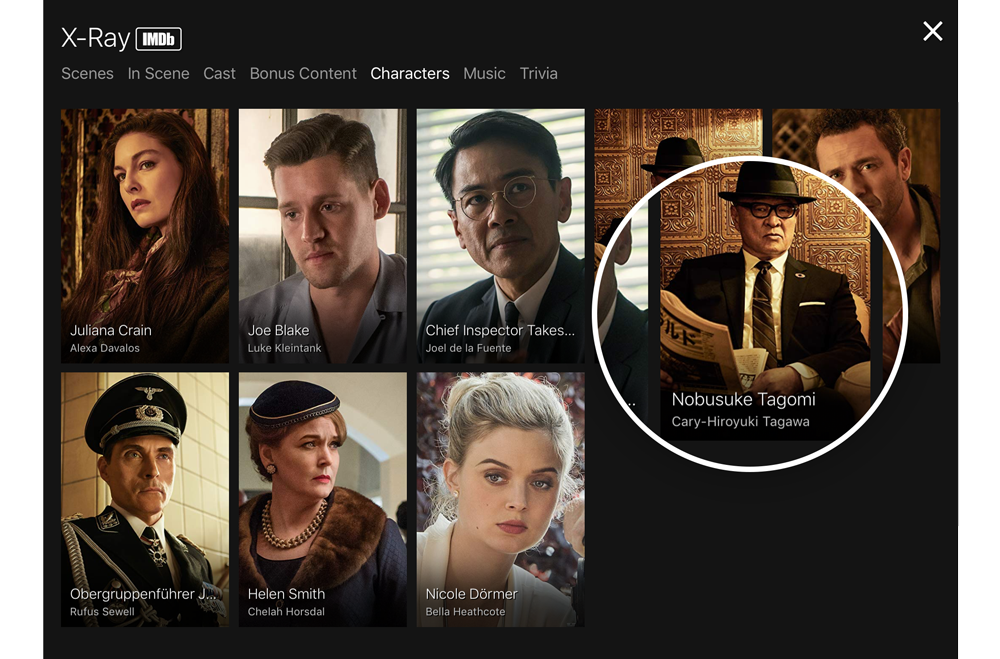 1. Cast and Characters
X-Ray identifies actors featured in-scene, providing a rich selection background information with extensive photos and filmographies. And, available for popular movies and series, character backstories are also provided.
2. Trivia
X-Ray places interesting behind-the-scenes trivia at specific time points throughout the entire movie or TV series, for curious customers who want to explore more about what they're watching.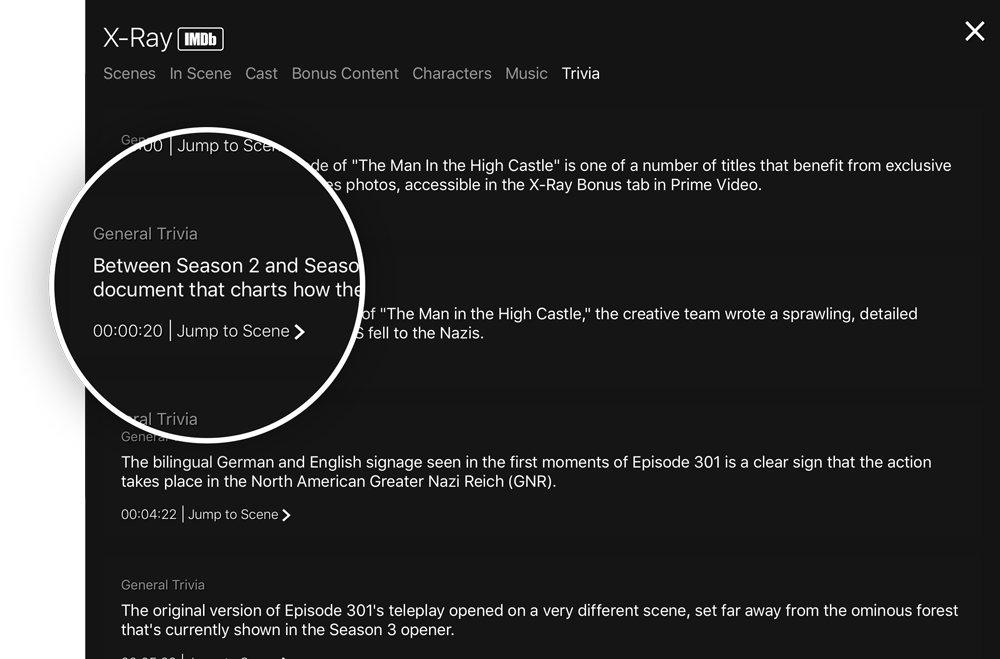 3. Music
Helping customers identify that song in the background, featured music lists are available on most X-Ray enabled videos, with a "jump to" button allowing viewers to go to the exact scene where the song is being played.
4. Bonus Content
On select titles, high-quality curated bonus videos and photos are also available in addition to the base X-Ray experience (scenes, cast, music, trivia, etc.). Bonus photos include behind-the-scenes high-resolution stills, concept art, props and set designs, among others. With bonus videos also available as supplementary content to further explain, expand or entertain.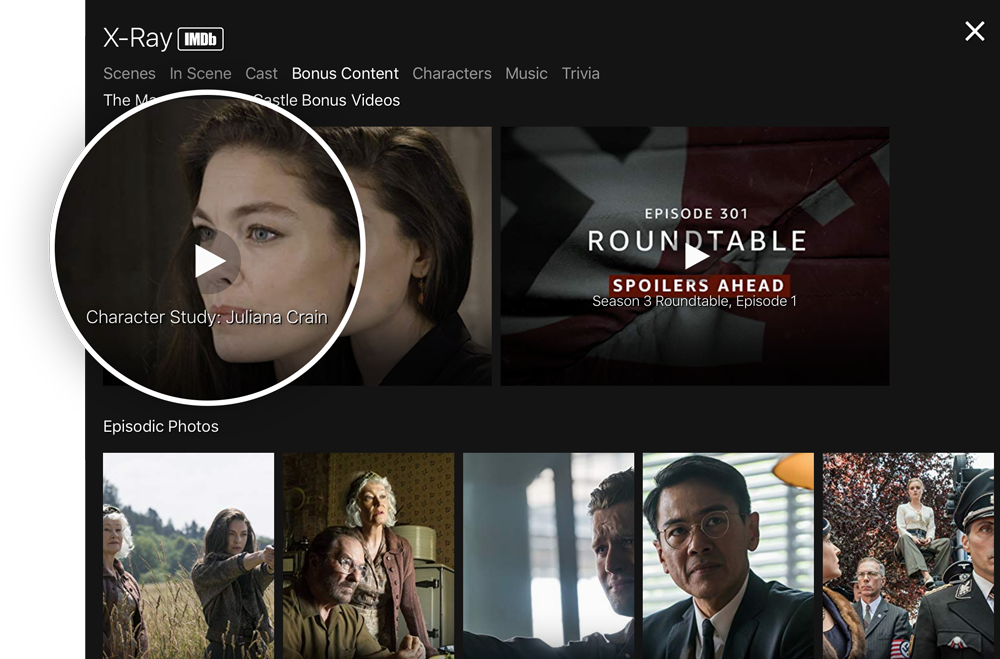 Beyond the bonus content
Helping further optimize the video-watching experience.
Going beyond value-added content, X-Ray also makes navigating a video timeline easier by allowing viewers to jump to specific time-coded scenes without having to fumble with clumsy fast-forward or rewind functionality. Plus, all featured trivia and music callouts come with similar time-coded links, making it easier to locate that exact scene where the insight or song occurs.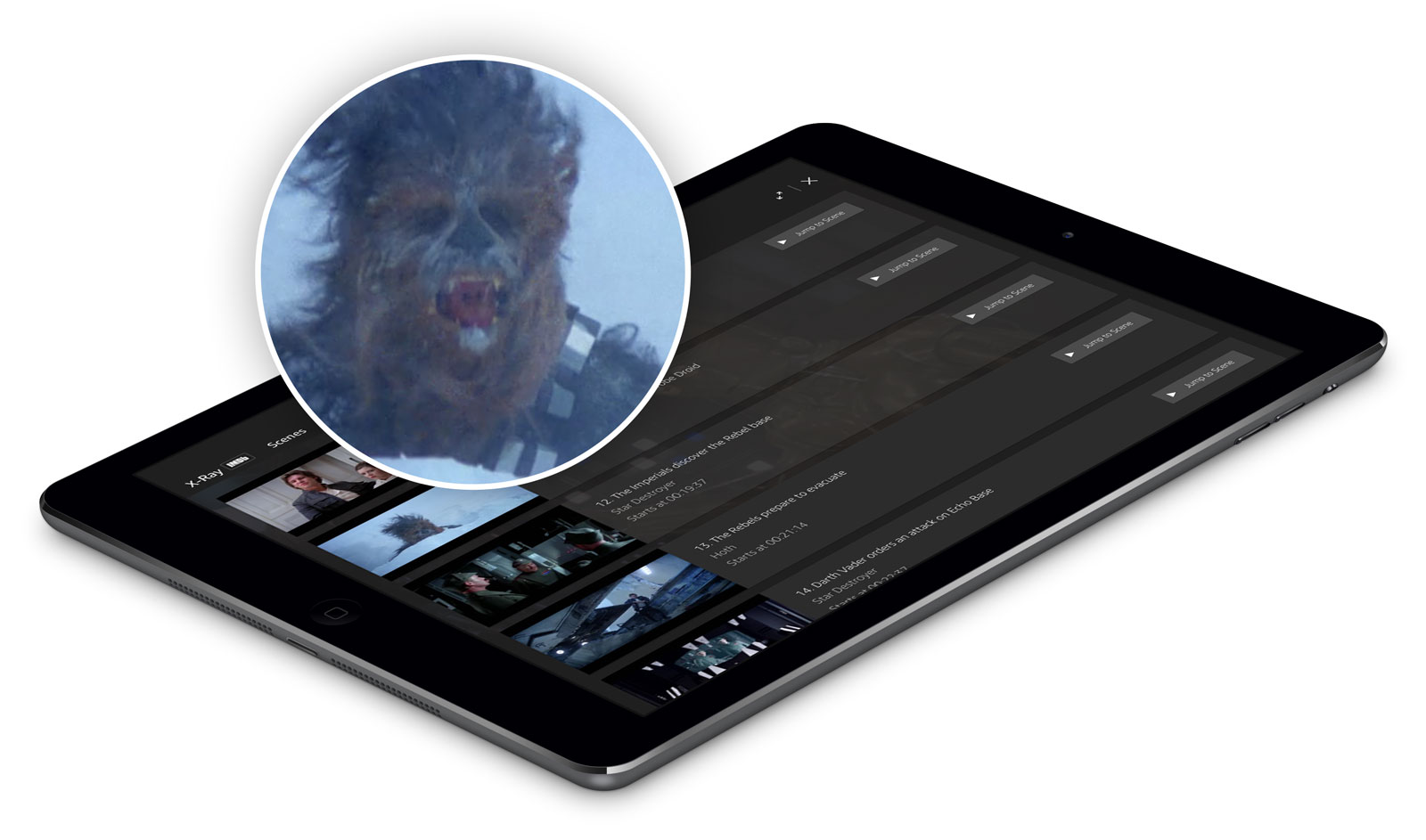 Building awareness
Video streaming's best kept secret.
While X-Ray offers so much added value for Amazon customers and their video streaming experience, general awareness of this innovative feature remained low. So, in order to build awareness and increasing customer connection between X-Ray and the Amazon Video service, a new customer facing brand identity was developed. Primarily used in service marketing and communications, this more stylized mark helped make X-Ray more identifiable both on and outside of the Amazon Video service, including across social channels and PR/editorial.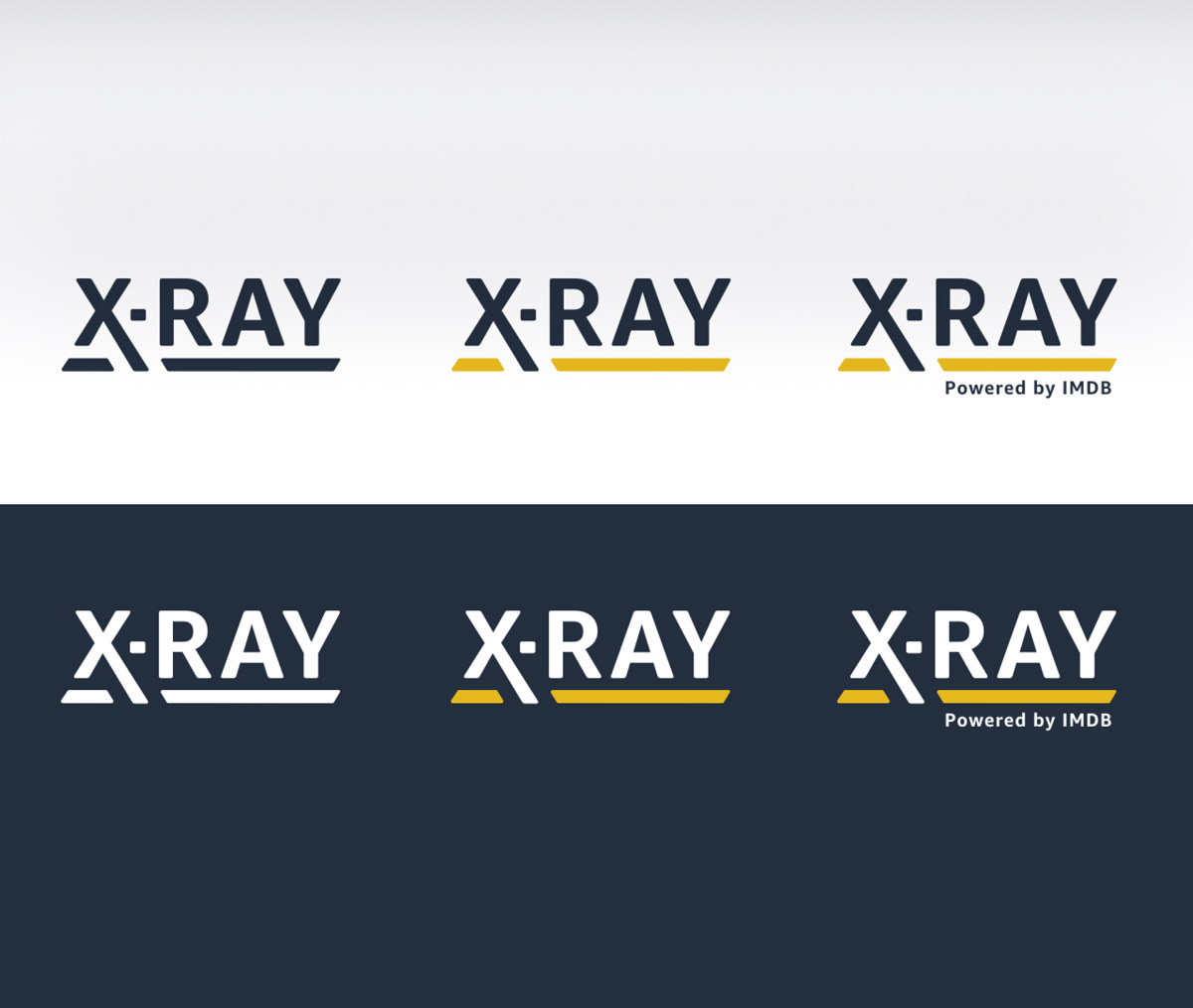 "If Amazon can make pausing a video a fun experience, well, it may have just solved television."