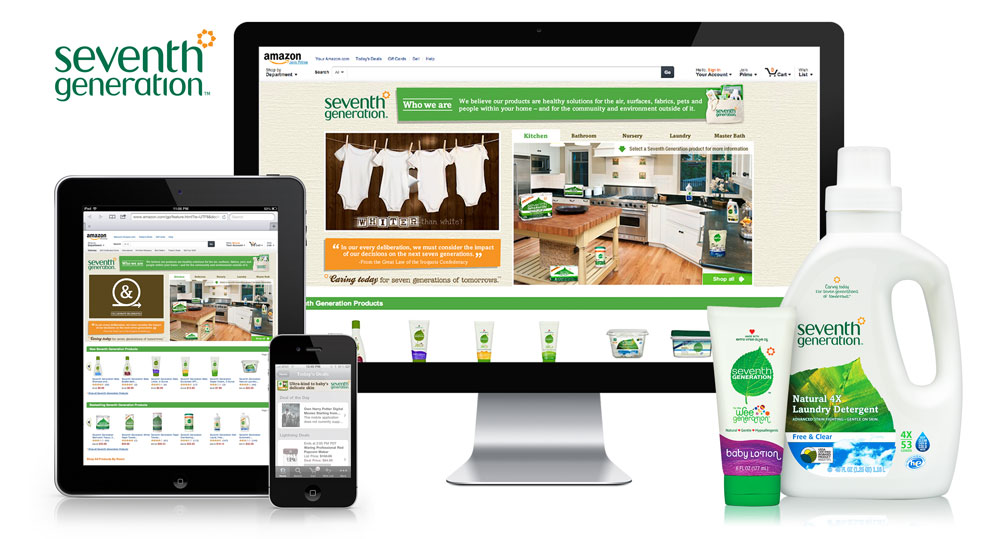 Seventh Generation is the nation's leading brand of green household and personal care products, designed with human health and the environment in mind. Much of the company's product development efforts are focused on sustainability and the conservation of natural resources, including the use of recycled and post-consumer materials in it's packaging and biodegradable ingredients in its products.
"In our every deliberation, we must consider the impact of our decisions on the next seven generations."
Seventh Generation's in-market brand awareness revolves around their eco-friendly dish and laundry products, found in numerous retail outlets including Whole Foods and Walmart, with diapers leading the way as their best selling online product. In order to create more awareness for their other product categories including kitchen, bathroom, beauty and personal care, while also driving more online sales, Seven Generation teamed with Amazon to create an immersive digital shopping experience.
Objectives:
• Reach new customers and drive awareness for other Seventh Gen product lines
• Increase online shopping basket size and bolster cross-category sales
• Create an immersive brand experience and increase online presence
Approach:
Working with Seventh Generation and the Amazon retail team, a custom online advertising campaign was developed. A key component to this program included a custom landing page on Amazon.com. The "Brand Store" provided customers with a unique shopping experience, encouraging them to shop across category in rooms found throughout the house — kitchen, bathroom, nursery, laundry and master bath.
The "Shop the Room" experience allowed users to rollover various products found within each room for dynamic pricing and product information. Directly from the experience, any Seventh Generation product could be added to a customer's cart or engaged with to find out more information. New and best-selling Seventh Gen products were also featured on the page, along with brand content and a product video for their new Baby natural laundry detergent. Onsite banner ads, themed with each room or featuring bestselling products, drove customers to the experience, while mobile banners featuring different products drove customers directly to relevant product detail pages.
[slideshow]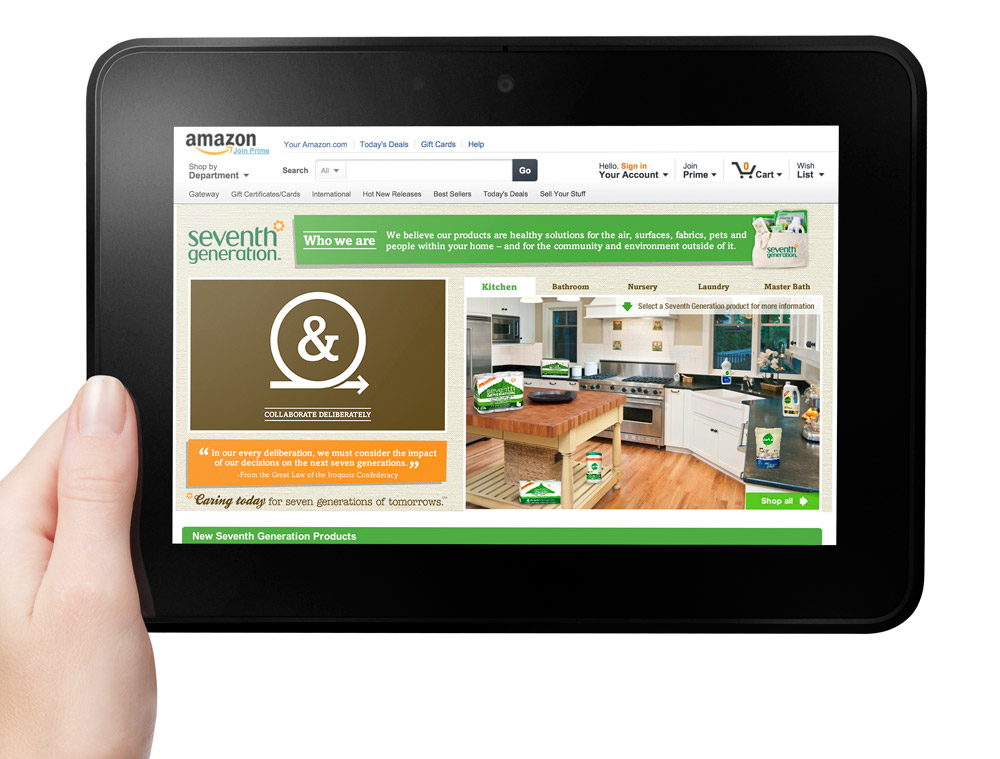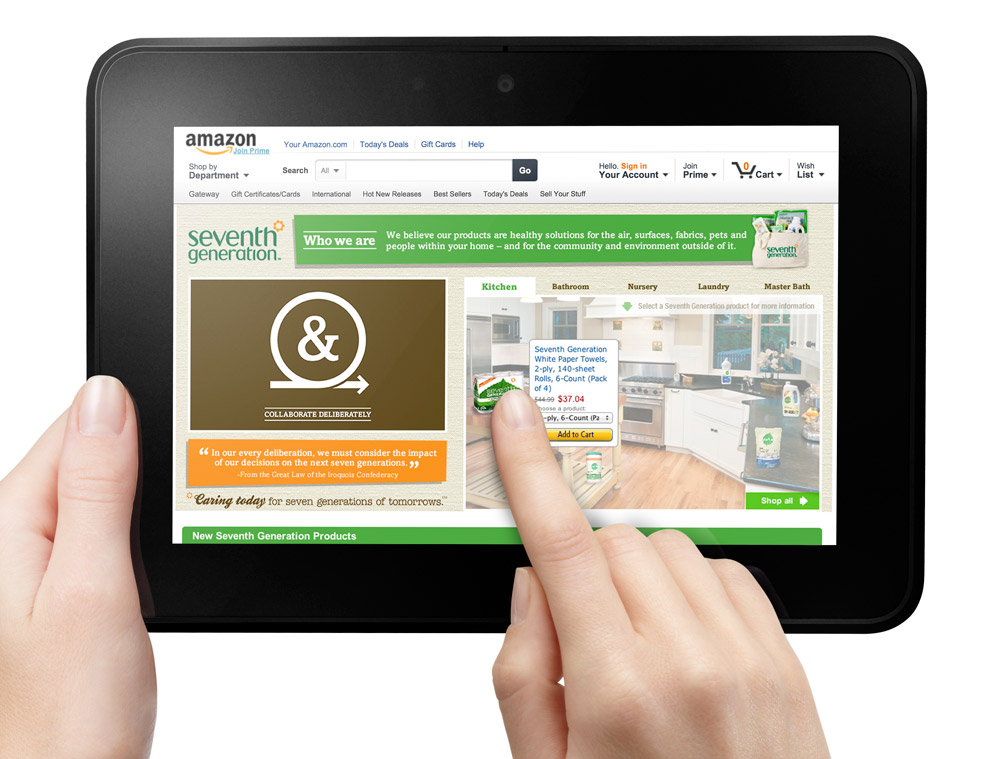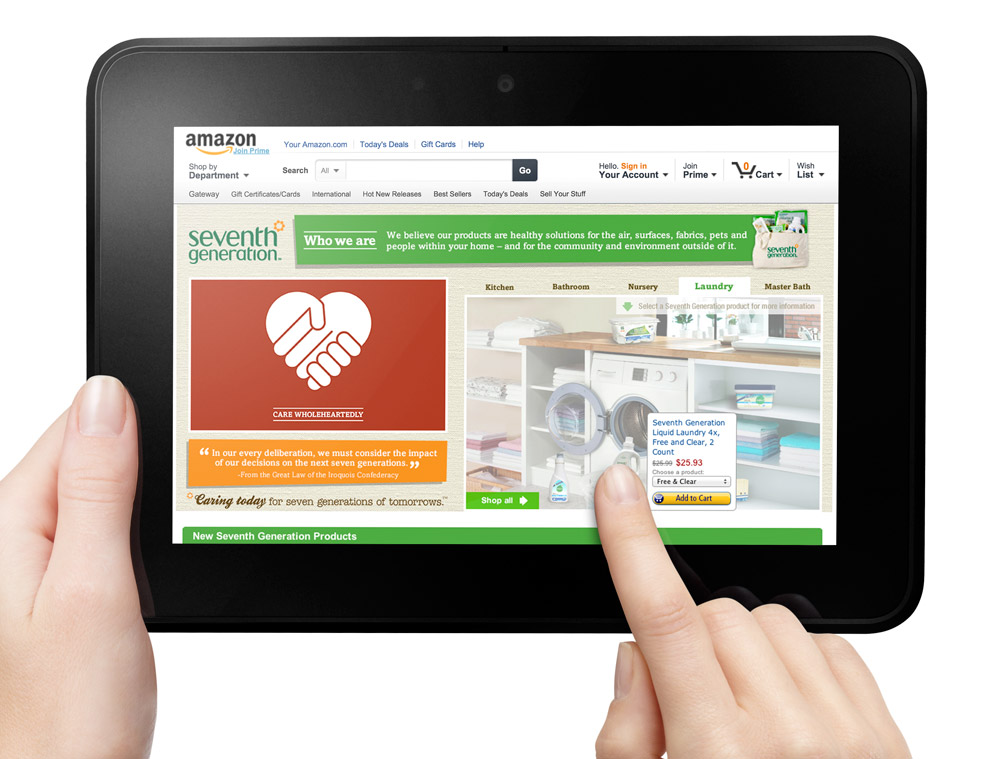 [/slideshow]
Results:
The dynamic "Shop the Room" brand page encouraged customers to explore various Seventh Generation categories or shop relevant products, and broke new ground for immersive advertising experiences on Amazon. The total campaign resulted in significant brand lift — 435% unaided awareness — and increased online purchase intent by 178%. Overall, by leveraging the custom brand page and multiple creative refreshes of their online media, the campaign was able to maximize brand impact while maintaining online customer interest and driving purchase consideration.