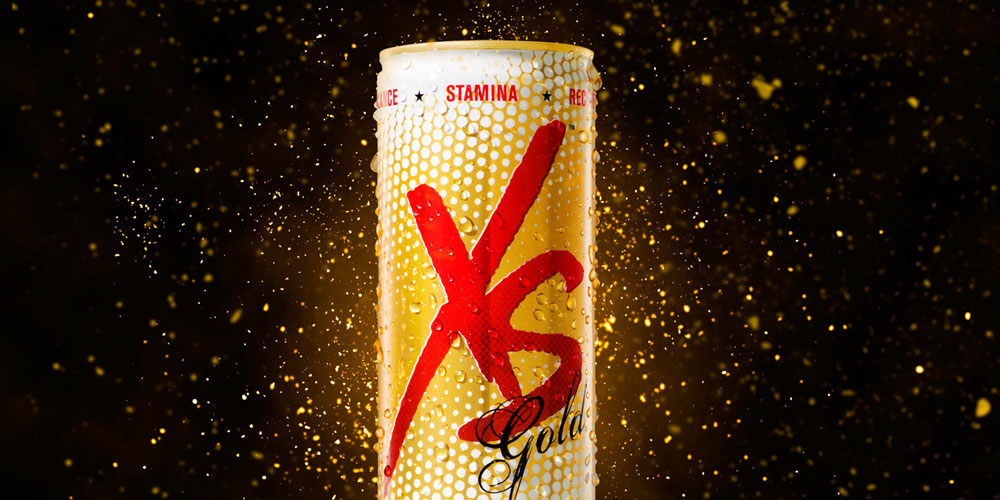 As one of the first energy drinks with zero sugar, under 10 calories and 15+ flavor/formula variations, XS Energy Drink is a truly innovative product in the beverage market. Launching in early 2001, XS quickly became one of the top manufactured energy drinks in the United States, and has since expanded into no less than five additional markets worldwide. XS Energy Drink was also the first to capture the family market with by-the-case sales, leveraging online & direct sales channels, rather than single can distribution through traditional retail outlets.
Taking the next step in energy product innovation, XS looked to fuse two beverage markets together by combining their popular energy solution with that of the functional beverage category. The result — XS Gold — was a more balanced energy supplement, suitable for any lifestyle. The "Gold" standard of energy beverages.
XS Gold is a crossover product – it combines effective amounts of powerful vitamins and minerals with Essentra® and more. It delivers clarity, immunity support, stamina, mental focus, balance, and of course the same healthy energy solution as the standard formula. These attributes, along with the unique flavor profile of acai, blackberries, blueberries, mangosteen, pomegranates and red grapes, made XS Gold unique and required a level consumer education at launch.
Objectives:
• Educate existing energy drink consumers on the additional benefits of XS Gold and differentiate from existing products in market
• Attract an older, more affluent target market through health benefit claims
• Create buzz around the product launch and encourage people to sample and share XS Gold
Approach:
A full product branding and marketing approach was executed over the months prior to and after launch. Unique product packaging was developed, leveraging the popularity and brand recognition established by XS, with a new more premium look — something that would resonate with the traditionally drink market while differentiating it as a unique, premium energy product. Pre and post launch marketing materials were distributed through trade and sampling events, and a digital marketing campaign was launched in order to drive product buzz.
"XS Gold is not a new flavor. XS Gold creates the standard for a new beverage category called FUNCTIONAL ENERGY – the combination of energy and functional nutrition. It is a lightly carbonated, rich-tasting beverage that delivers the flavors of acai, mangosteen, blueberry, and pomegranate. XS Gold's more powerful ingredients may help the body cope with stress, support emotional balance, sharpen mental focus and stamina, boost mental clarity and concentration, and alleviate mental fatigue. The proprietary blend also provides immunity support."
To support the word-of-mouth efforts, XS Energy established the "XS Department of Energy" (XSDE), a made-up government organization with the intent to deliver the life-changing benefits of a life with XS Energy. A group of mysterious XSDE agents were given the "XS Gold Mission" to fan out across the country, delivering the top-secret formula to various distribution and industry leads in the form of pre-release cans protected by gold plated briefcases. A viral marketing video was produced and distributed through various social channels, which included the following call to existing XS distributors…
"XS Gold will provide deeper, more meaningful energy to the XS Nation. As a distributor, you are on the front-lines of this exciting new gold standard in energy drinks, what we are calling functional energy."
Results:
XS Gold successfully launched with good market buzz and impressive industry penetration, allowing the XS brand to expand market share to include a more educated, health-conscious consumer. Gold quickly became one of the XS Energy's best selling products, supported by a motivated distributer group and good in-market educational marketing material. Over time however, product sales waned as the premium price point restricted the ongoing growth of the product.