Prime Video Brand System
Making every brand moment more engaging and meaningful
Upon rebranding the Amazon Video service to Prime Video, creation of a comprehensive design system was desperately needed in order to unify the various brand components around a single visual language. This system would define a clear set of guidelines and patterns, while establishing a core collection of global product and marketing elements, all making up the new brand standards for Prime Video.
Due to the size and complexity of the service, buildout of the global brand system was divided into multiple phases. Starting first with the development of foundational brand attributes, and then clarification of key objectives for the system itself. Followed by defining the component parts of the system, and determining how the system would be delivered across the global Prime Video organization.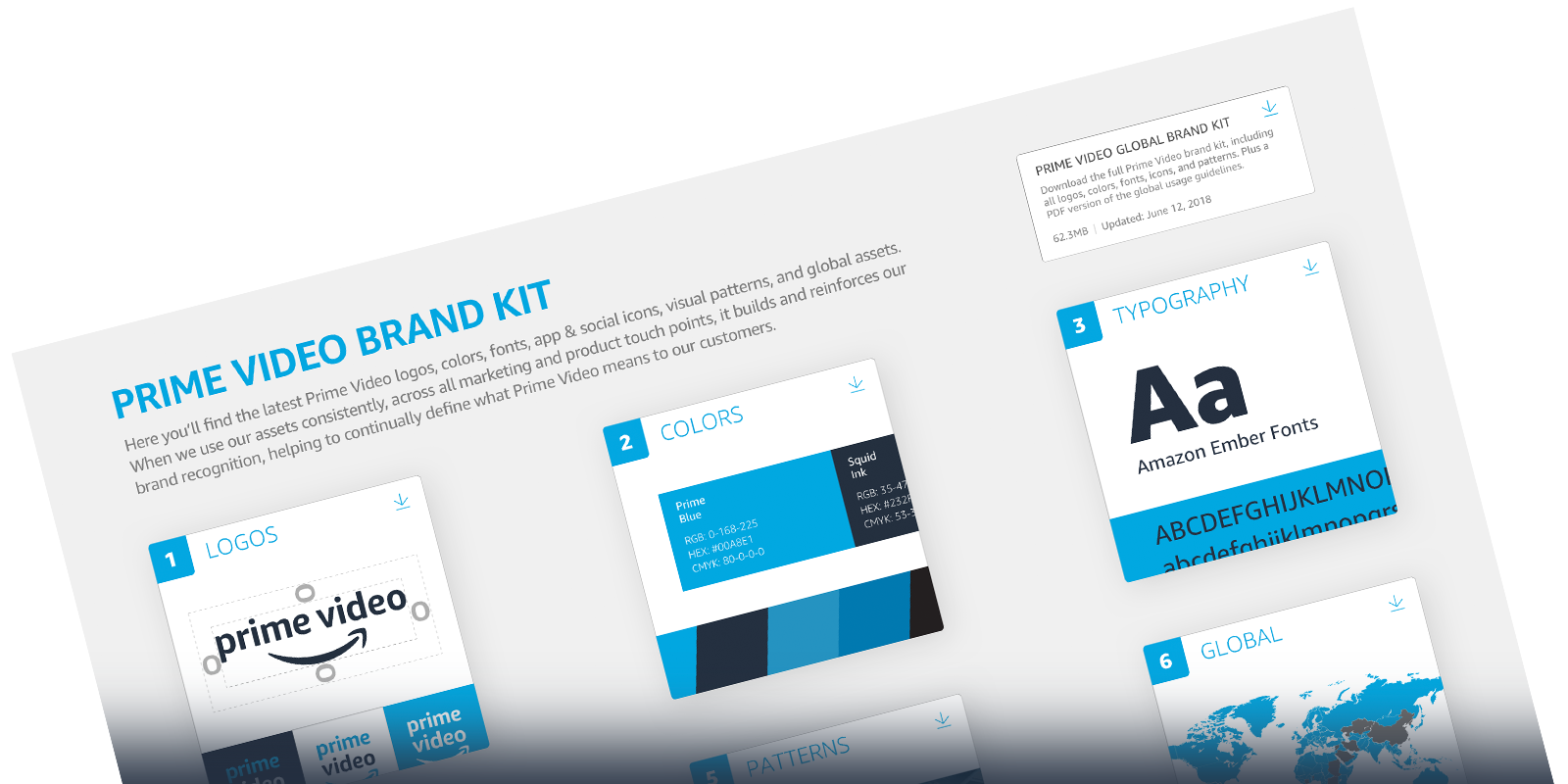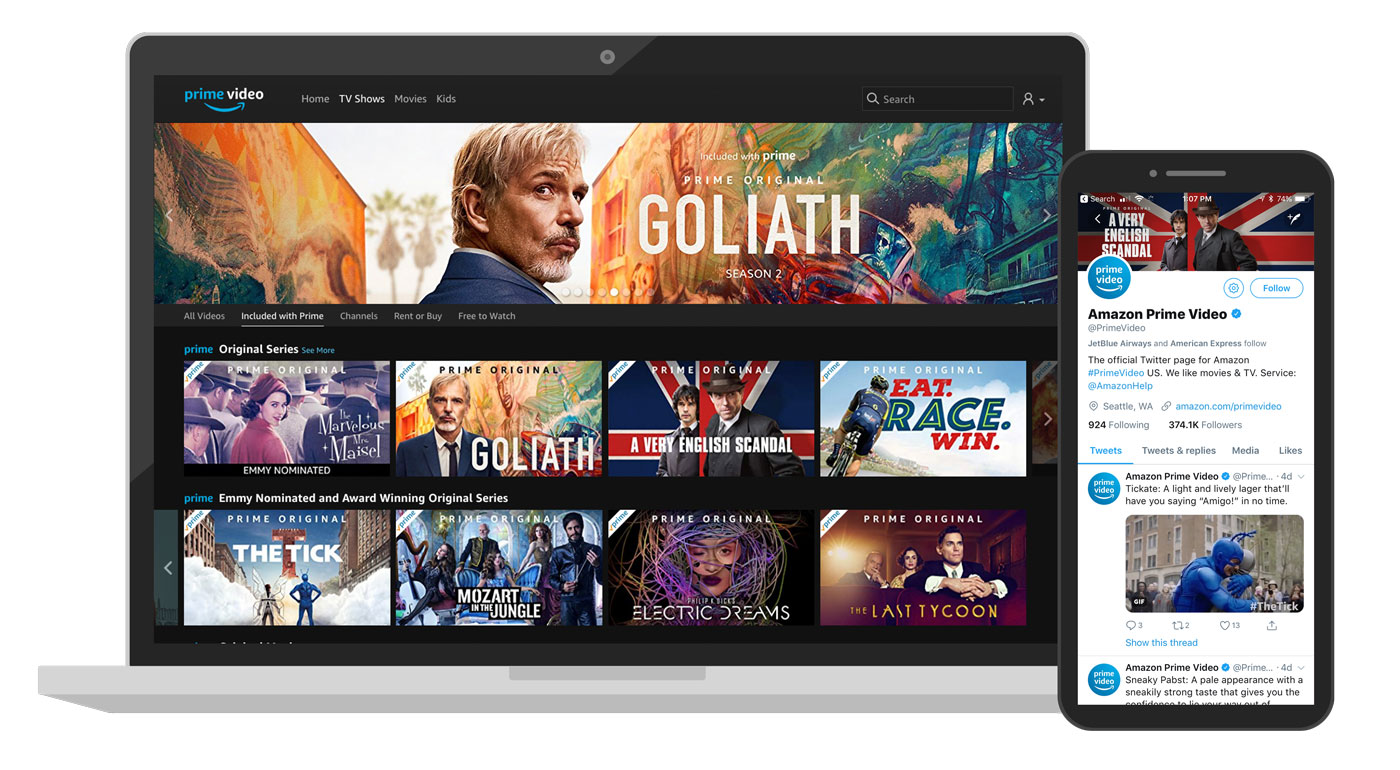 Create surprise and delight for customers by redefining entertainment
We inspire and entertain the world one story at a time, all with the ease and selection of Amazon. This internal compass guides the development of our brand and every interaction with our customers.
The Prime Video brand is inherently complex, given its close association with two additional brands—Amazon and Prime—as well as its vast global footprint and broad product offering. To begin, it was essential that the brand positioning be relevant to customers, differentiated from competitors, and own-able by both Amazon and Prime, in order to be effectively disruptive in the entertainment space.
Major streaming competitors like Netflix and Hulu—along with cable providers, broadcast networks and premium channels—have long controlled customers' access to content, only providing access to what each service offers, not necessarily everything customers want. However, Prime Video was not born from the conventions of the entertainment industry, but from Amazon, where customers always come first.
Positioning of the Prime Video service as "the everything store" for digital video, perfectly ladders up to Prime positioning and its fundamental elements of disruption, value, making customers lives better and easier. So, by delivering the entertainment customers want, when and how they want it, and with the great customer experience of Amazon, the Prime Video service was primed (pun intended) to disrupt how things have always been done in entertainment.
Develop an extensible system that delivers on Amazon's brand promise and the value of Prime
Prime Video delivers a comprehensive global service unlike any other. With great selection and flexibility comes great responsibility, making clear communication the true superhero of our branding decisions.
Allowing customers to access the entertainment they love without conventional industry limits naturally comes with its own inherent complexity, due to the wide range of service offers and product features such a promise demands. So, to begin the process of defining such a robust and comprehensive brand system, we had to first establish a clear set of objectives and deliverables.
We set out to create a system that was elegant in its simplicity, visually powerful, easily recognizable and infinitely extensible. It would need to address current and future use cases, and express Prime Video's brand values at every customer touchpoint. And, in turn, tether all brand elements back to Amazon's customer satisfaction credo, while building value and awareness of Prime around the world.
With objectives firmly in place, we went to work defining and constructing the key components of the Prime Video brand. These were mapped out over the period of numerous months, which included exploration, experimentation & testing, refinement, and ultimately sign-off from global stakeholders and senior executives.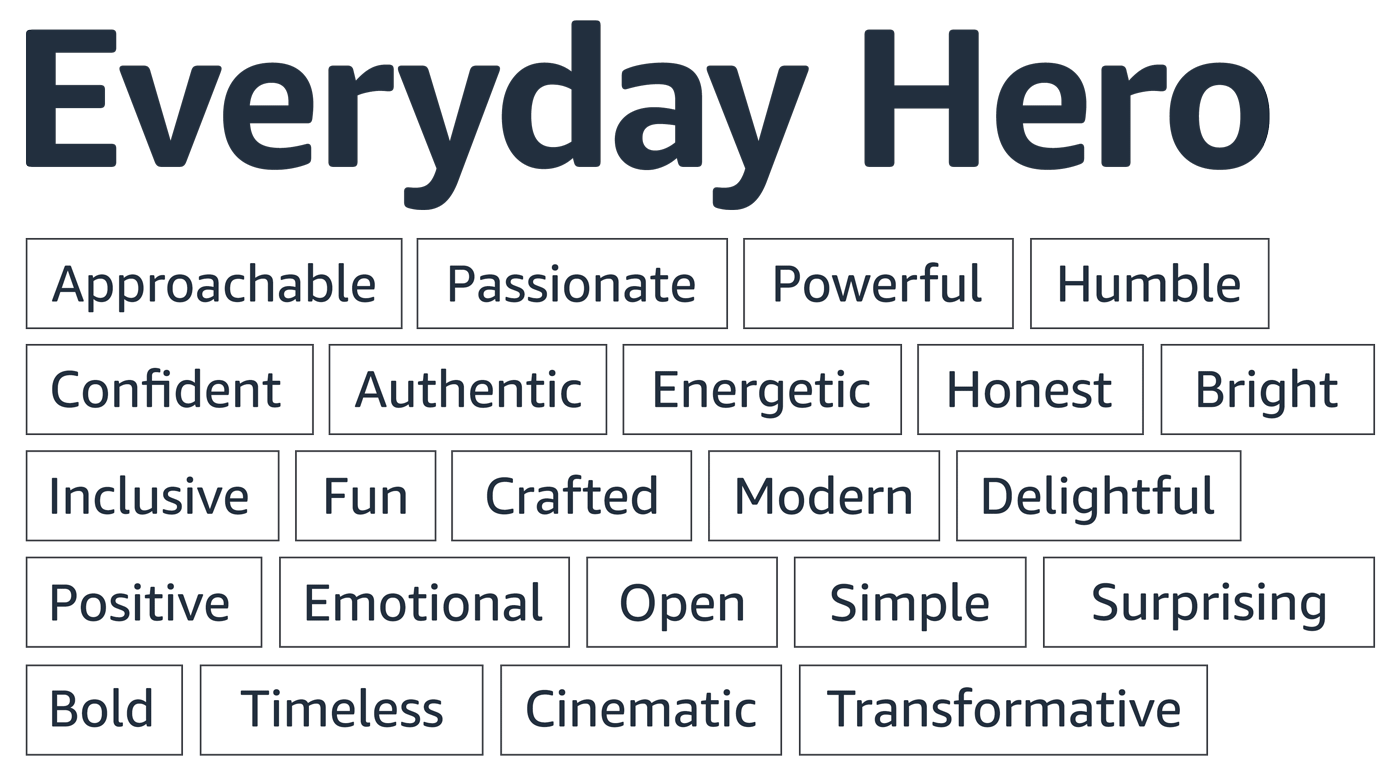 Focus design thinking to deliver a brand system that's simple, streamlined, and easy to deploy
By creating more consistent brand messaging and communication, we increase awareness, engagement, and affinity of the Prime Video service as a whole.
All core brand components were then compiled into a comprehensive set of digital resources, covering all Prime Video visual elements, global guidelines, and messaging patterns. An extensive collection of product & marketing use cases and specific implementation guidelines were also included as a single source of truth, to ensure global coherency and empower internal teams to implement consistently and iterate quickly.
The brand system guide was constructed so that it could be read in both a linear fashion, as a comprehensive Prime Video narrative, or used as an ad hoc reference for making one-off brand decisions. To maximize comprehension and consistency, a common editorial structure and visual framework was established. And the guide cleverly organized and cleanly designed to make navigation simple and straightforward.
In order to maintain brand accuracy and manage version control, special steps were taken to make the guide flexible and accountable for any new information and updates, including rigid versioning control and the upfront identification of "what's changed?". An extensive collection of spinoff resources including various digital brand kits were also created to supplement the brand guide, with all information and resources tied back to a central repository for easy oversight and management.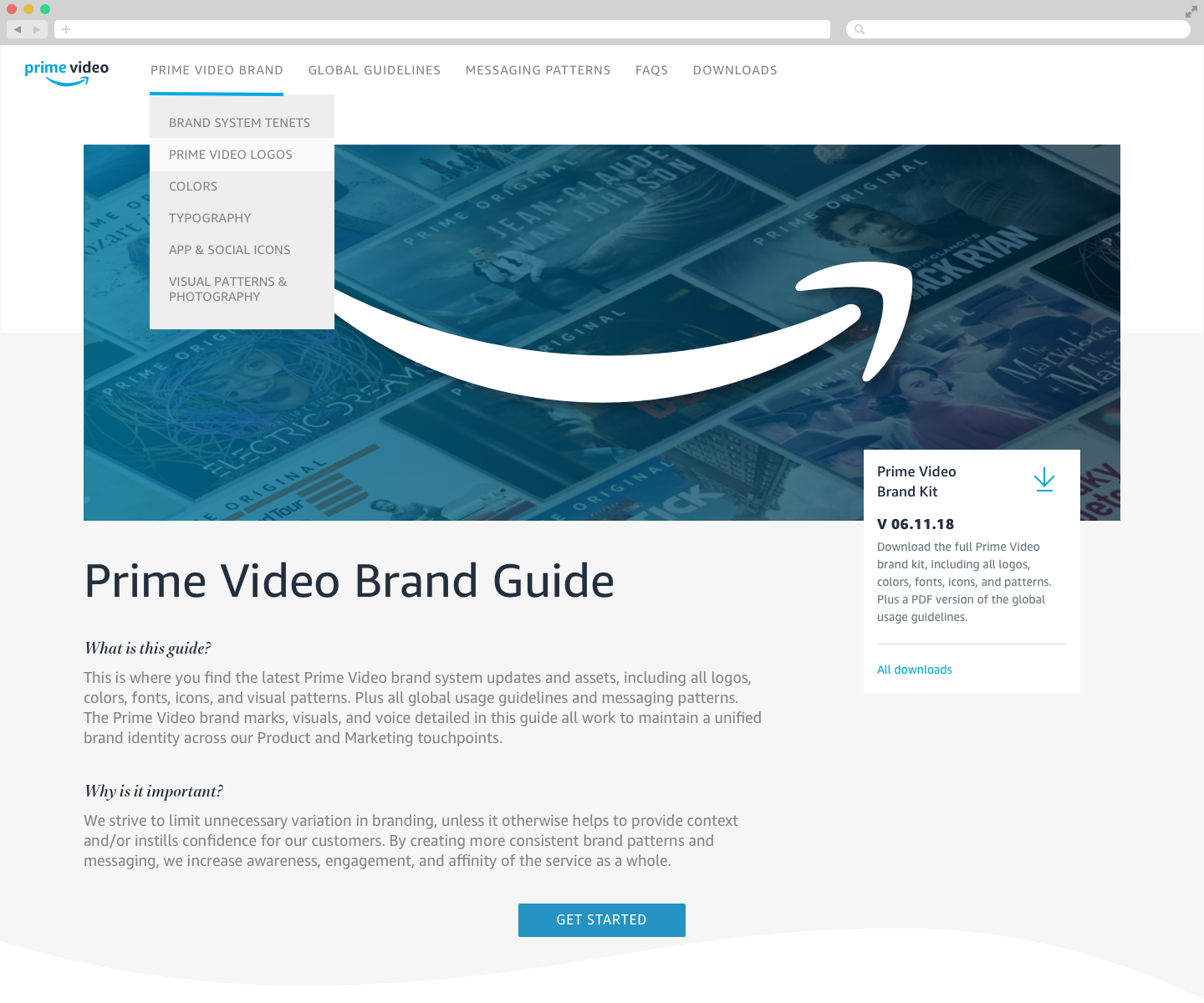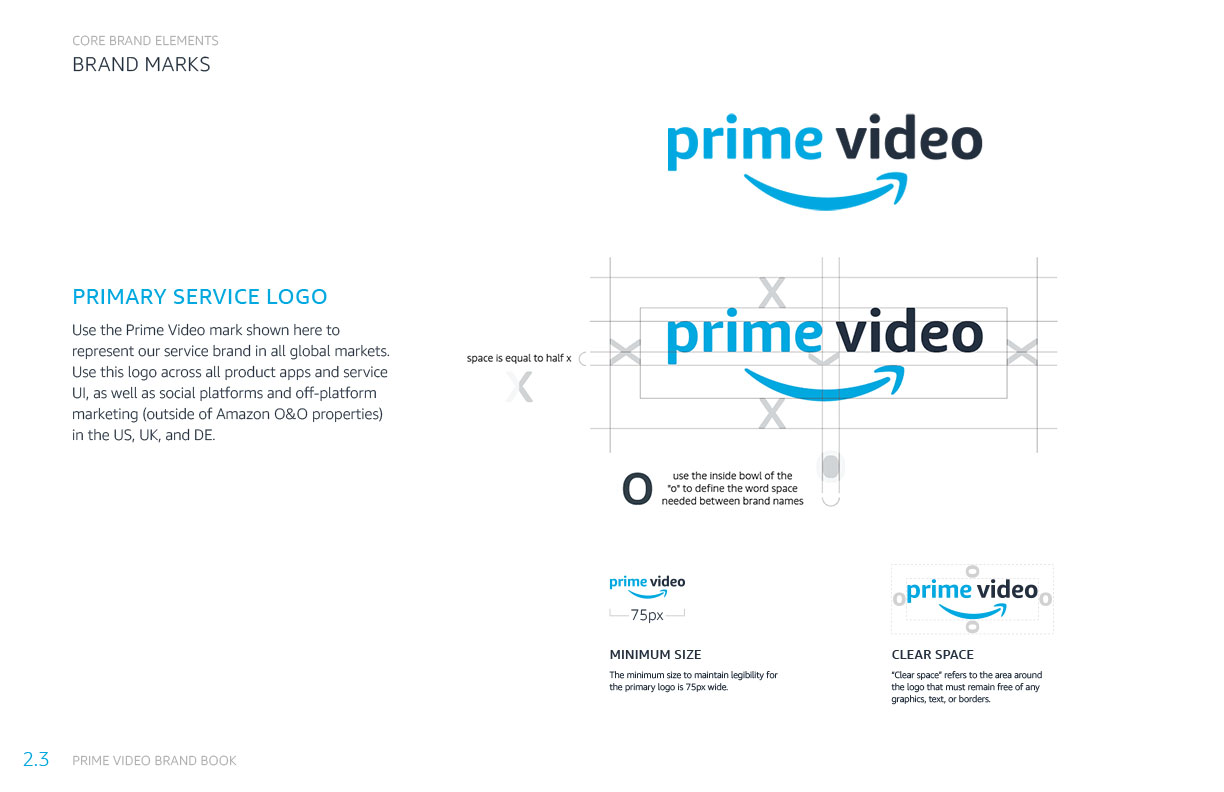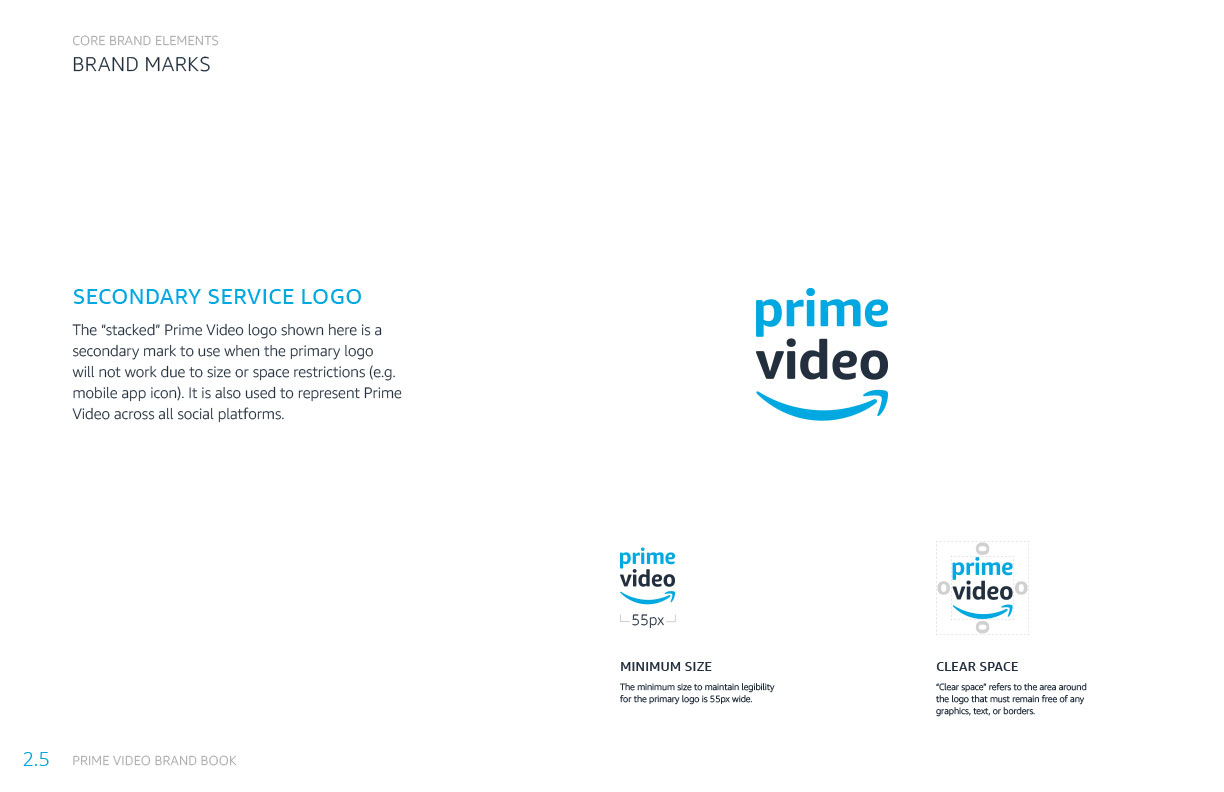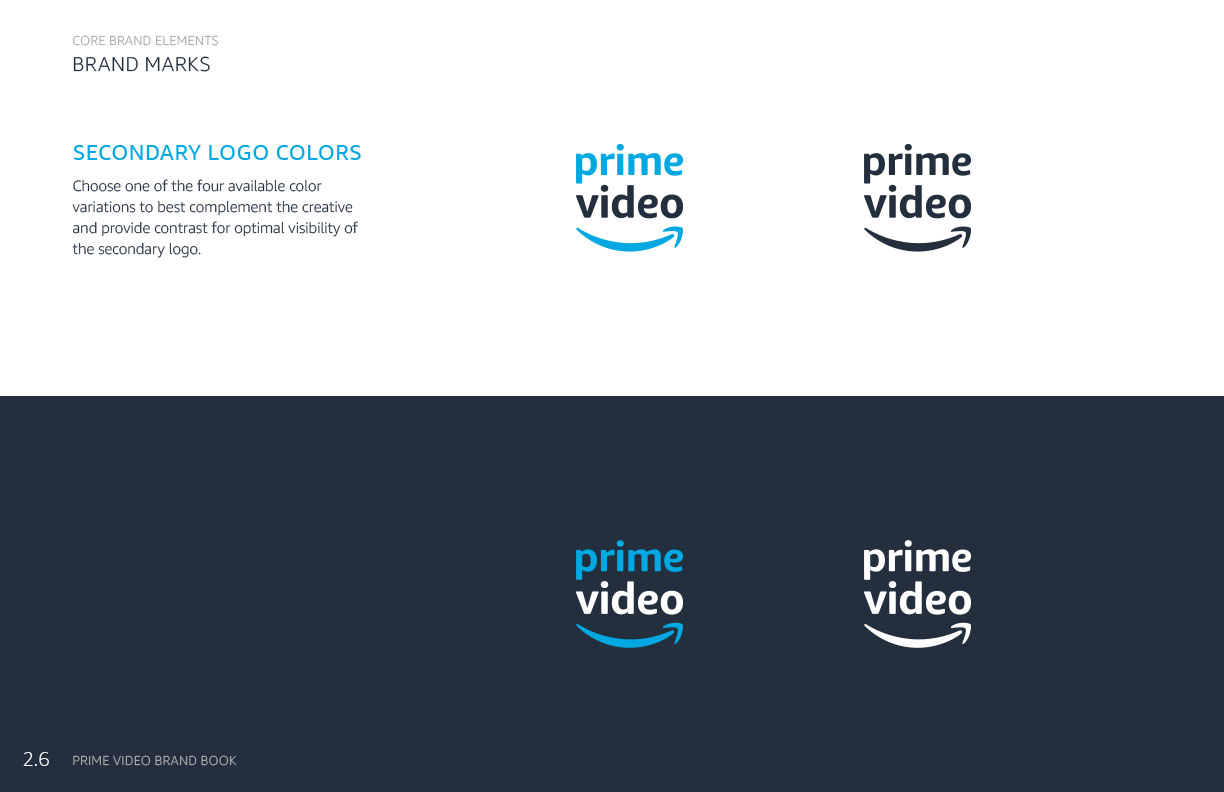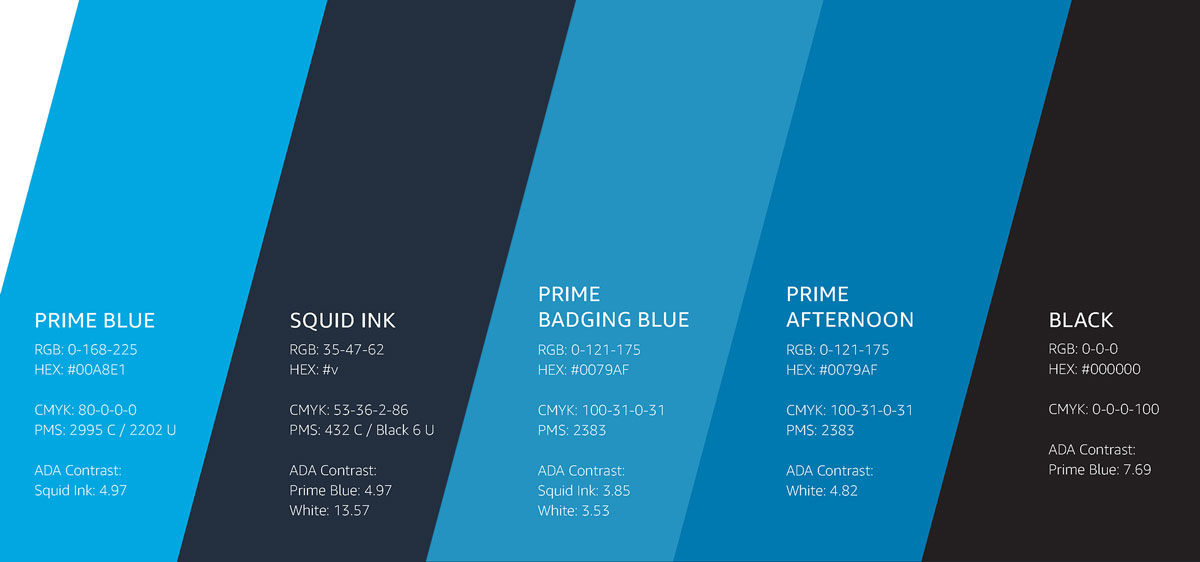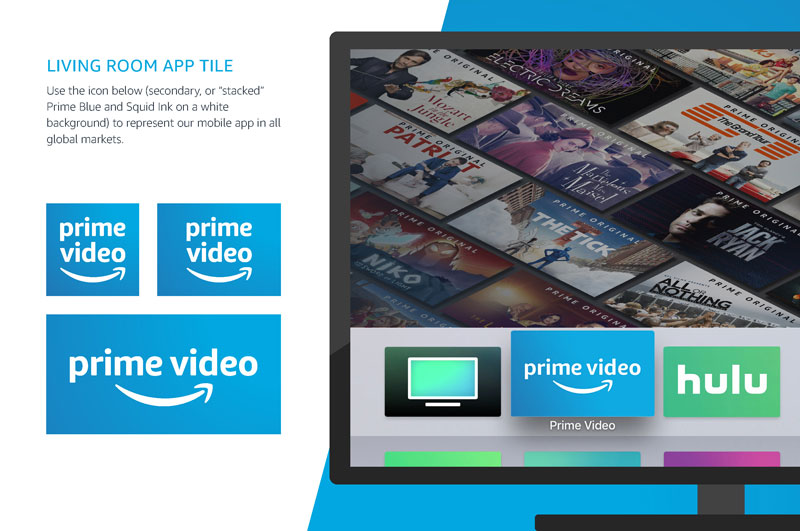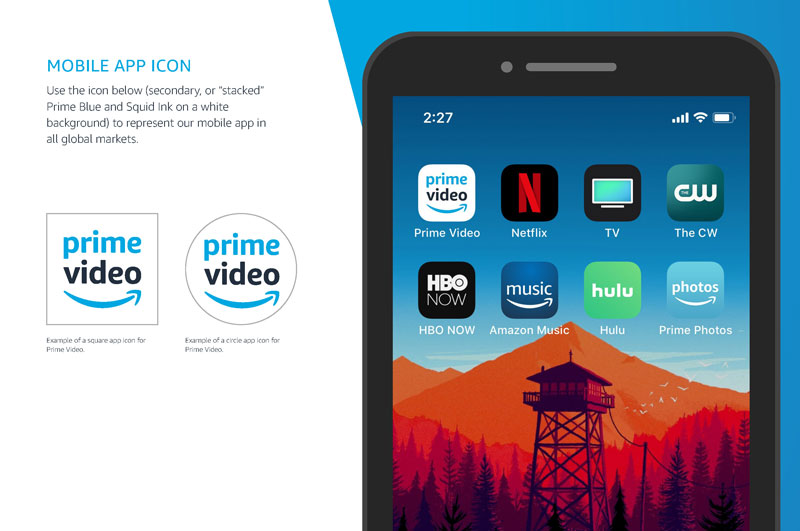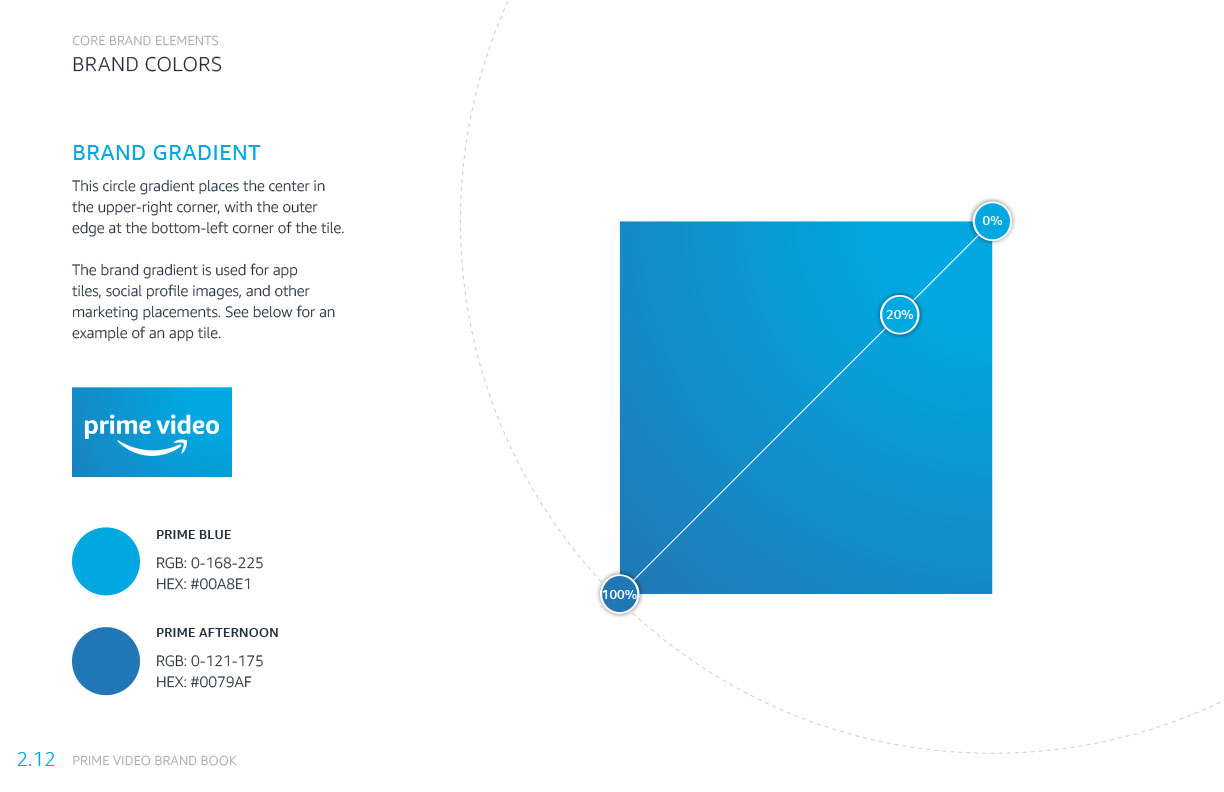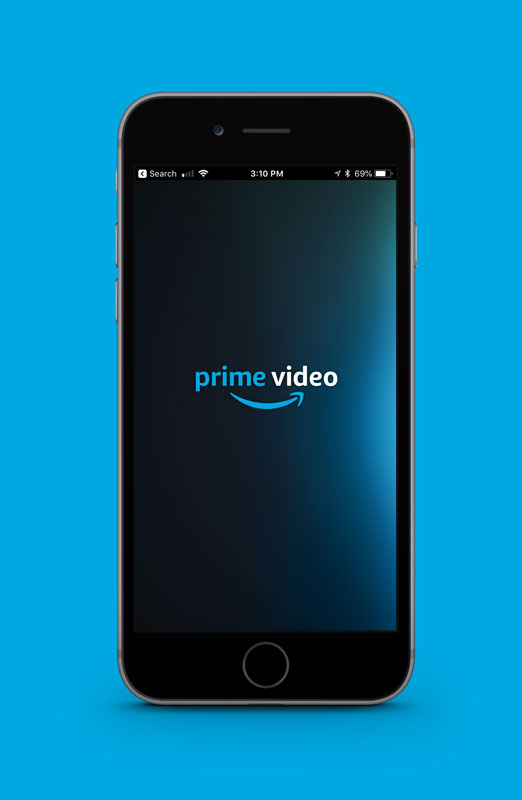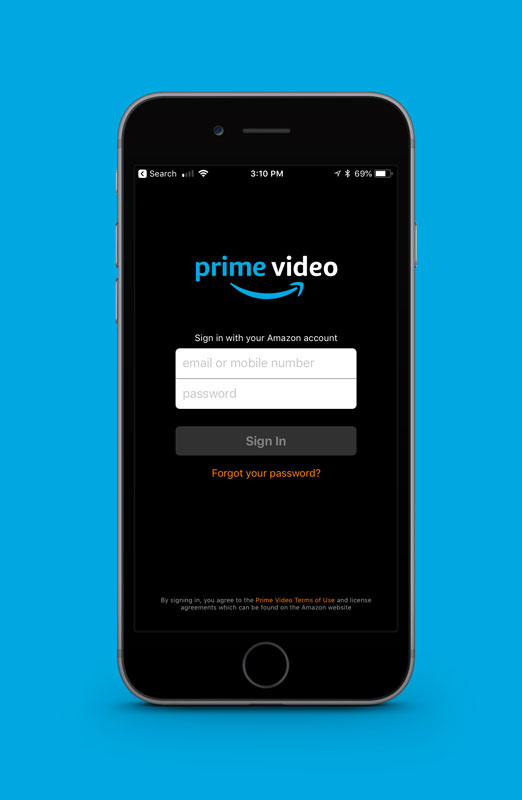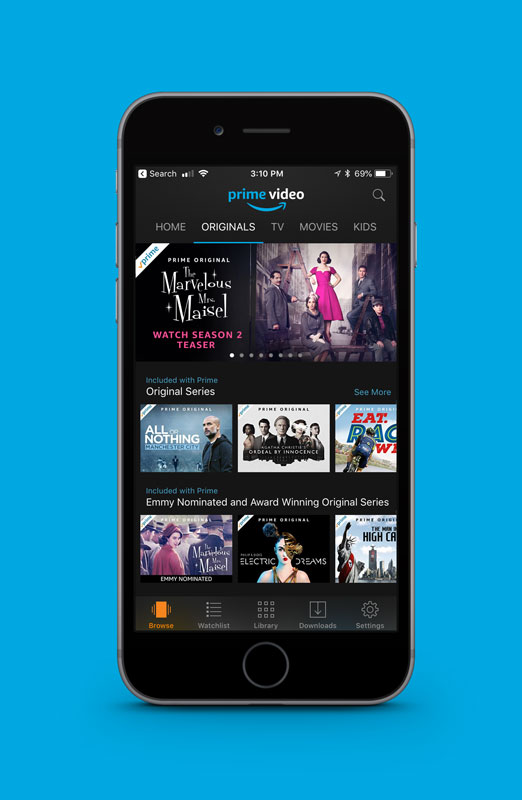 Deliver a foundation for effective brand implementation
We strive to limit unnecessary variation in branding, unless it otherwise helps to provide context and/or instills confidence for our customers.
While the Prime Video brand system was made available in various forms, for use by external vendors and key customers, a core objective was to support internal stakeholder teams in making smart, repeatable brand decisions. To accomplish this, a robust roll-out plan was developed including the organization of a Global Brand Roadshow—intended to inform and empower stakeholders from around the world to make confident brand decisions based on foundational brand rules and patterns developed as part of the system.
This roadshow was executed over the span of several months, with presentations and breakout sessions conducted across five global markets and dozens of Amazon stakeholder teams, creating transparency around core brand attributes and patterns. Through detailed planning and communication efforts quick and seamless adoption of the new brand guidelines across the global Prime Video organization was possible. At no other point had the previous Video brand been documented or distributed in such a detailed way. Ultimately, the system was the cornerstone to reimagining and repositioning the Prime Video brand as the most recognizable, innovative and exciting storytelling platform in the world.
CLIENT
Amazon Prime Video
PROJECT
Global Brand System, Digital Brand Kits, Branding Guidelines, Messaging Patterns